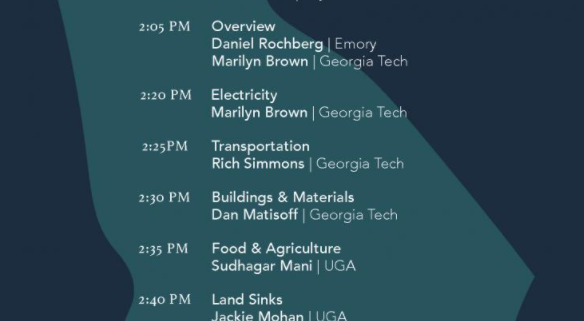 Join Dr. Marilyn Brown from the GaTech School of Public Policy and other university researchers for a look at the science behind the Drawdown GA project.
What is Drawdown GA?  Drawdown is that point in the future when levels of greenhouse gases in the atmosphere stop climbing and start to steadily decline. Inspired by Project Drawdown, there are five sectors where Georgia has the potential to leverage the most change: Electricity, Food & Agriculture, Land Sinks, Transportation, and Buildings & Materials. If we get this right, we'll reduce our carbon impact to 69 megatons by 2030.
Drawdown Georgia is also addressing the social, economic, environmental, and health impacts of scaling these solutions by accounting for the impacts Beyond Carbon.
Please join us Wednesday, Oct. 21 for the webinar at 2:00 pm EST.  No RSVP is required and all are welcome!