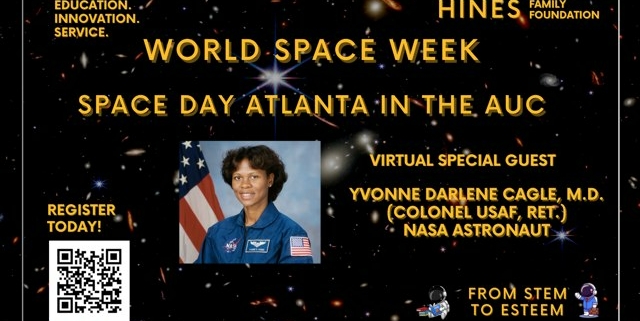 Experience fun, music, exhibits and demonstrations that focuses on Space, Sustainability, STEM Engagement and More! We will feature a Guest Speaker and many different activities. There are two sessions, 10-1 and 12-3.
Our special guest who will be joining us virtually is Astronaut Dr. Yvonne Cagle is a NASA Astronaut and Family Physician.
In 2008 , Dr. Cagle retired as a Colonel in the USAF where she served as a Senior Flight Surgeon prior to her selection to the NASA Astronaut Corp in 1996. In 2005, Dr. Cagle was assigned to the NASA/ARC as the lead ARC Astronaut Science Liaison and Strategic Relationships Manager for Google and other Silicon Valley Programmatic Partnerships. Dr. Cagle was the advisor for the Commercial Reusable Suborbital Research Program (CRuSR). Previously, Dr. Cagle served on faculty as the NASA liaison and VP for space exploration technologies with Singularity University based in Silicon Valley California.
Dr. Cagle was a Brussels TEDx Speaker for 2012 and San Francisco for 2018. Dr. Cagle earned a PhD for her accumulative work in Health and Human Science. Historically holding adjunct professorships with Stanford University, UC Davis, and UTMB, Galveston, Dr. Cagle currently, in collaboration with NASA, was a Visiting Professor at Fordham University investigating mitigating neurocognitive countermeasures to optimize long duration space crew behavioral health and performance. Currently, Dr. Cagle is advising on deep space neurobehavioral research and polar analog simulations, as well as the brain's adaptation during long duration space exploration for NASA's expeditionary missions including Moon and Mars.
Dr. Cagle is a 2020 World Expo speaker with a personal exhibit honoring her in the US Pavilion. She was also the opening day panelist and exhibitor at Comic-Con 2022.