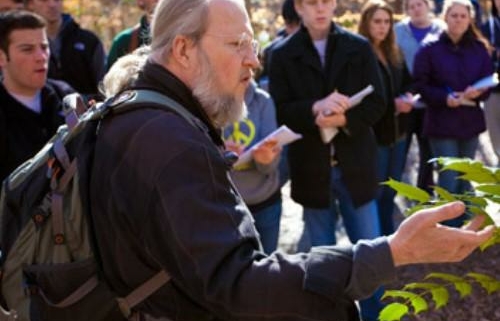 Professor John Wegner from Emory University will introduce you to the sacred space called Lullwater Preserve. Right in the middle of Emory's campus, Lullwater Preserve offers acres of green space with trees, lawns and a lake for community members to enjoy. The estate is home to an English Tudor mansion where the university president lives. You will learn about the tree policies of Emory University as you explore this unique piece of Atlanta's urban forest.
About the Instructor:
John joined the faculty of Environmental Sciences at Emory University in 1998 after teaching for 23 years at Carleton University (Canada). While in Canada, John was also a sheep farmer. He is active in the University Senate Committee on the Environment which evaluates environmental activities for the university. He is also the faculty advisor for the Emory Ecological Society. He became the university's Chief Environmental Officer and served in that role until 2009. He currently teaches a variety of course in environmental science, focusing primarily on field courses.
Important Reminders:
What to wear: Sneakers or hiking shoes. Comfortable clothes.
Trail surface and inclination: Most of the walk will be on asphalt with one non-paved section. There will be a set of stairs and one steep section of the trail.
Bring: Reusable water bottle, sun and bug protection.
How to get to the preserve: Parking is behind Woodruff Residential Center which is at the corner of Clifton Road and Gatewood Drive. Gatewood is opposite the construction project on Clifton. Turn at the light. Enter the parking lot which is the first entrance behind the dorm. Park at the far end of the parking lot.
Nearest GPS address: 1495 Clifton Rd, Atlanta, GA 30322
Emory University Mask Policy: Masks are still required in all indoor public and common spaces on campus and strongly encouraged outdoors when in groups. Emory will continue monitoring changes in public health guidance and community indicators and will provide further revisions to campus policies and protocols moving forward.
Additional Information
Various ticket levels. See below for more information. With the Pay-It-Forward option you allow other to receive scholarships to attend this event and other Trees Atlanta educational programs.
Scholarships Available: Email [email protected] for more information.
Safety: Learn more about our safety protocols here: Safety Protocols | Trees Atlanta
Cancellation Policy: Inclement Weather and Cancellation Policy for Programs and Events.
Questions: If you have any questions or comments regarding this event, please email [email protected]