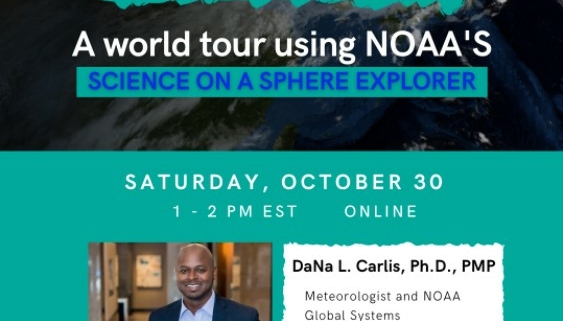 How can we better understand big science concepts like atmospheric storms, climate change, and ocean temperature? In some instances, the data can be complex and even challenging to be certain of.
This is where the NOAA comes in. The National Oceanic and Atmospheric Administration (NOAA) is the largest scientific and regulatory agency in the U.S. tasked with understanding and predicting changes in the Earth's environment, from the depths of the ocean to the surface of the sun, and conserves and manages our coastal and marine resources.
NOAA has developed technology to help illustrate what we call Earth System science to youth and adults called Science On a Sphere®. Science On a Sphere® (SOS) along with SOS Explorer® (SOSx) are unique and captivating tools used in science museums, visitor centers, zoos, aquariums, laboratories, and schools around the world!
Join us for this workshop where meteorologist and NOAA Deputy Director Dr. DaNa L. Carlis will guide us through taking in and making sense of the magnitude of our earth and environment!
Youth of all ages can sign up to see what technology is being used to inform the masses about what's happening in and around our atmosphere at https://bit.ly/SITCWORLDTOUR