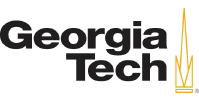 How can we study the health of our planet?
How can scientists collect important data across the planet, including dangerous or hard-to-reach areas?
Join STEM@GTRI for our celebration of Space Week and Sustainability in Space! We'll learn from GT researchers about how satellites in space enable their study of the Earth.
Afterwards, we'll explore sustainability-related concepts through mathematics and data analysis using data collected by satellites in orbit around the Earth. Students will share their work via a virtual poster, with STEM experts logging on to review student work, share feedback, and discuss how mathematics is used in the everyday work of scientists and engineers involved in space-related research and development!
Students will the explore the following questions of inquiry through 3-Act Tasks created using real-world data obtained from NASA/NOAA satellites. Each task is centered on grade-level GSE expectations using the GaDOE pacing calendar.
Does the Earth's oceans have the same temperature? (6th Grade, 8th Grade)
Where does lightning most frequently strike the Earth? (4th Grade)
How do environmental factors affect wildlife populations? (7th Grade)
How have Earth's features formed over time? (3rd Grade, 5th Grade