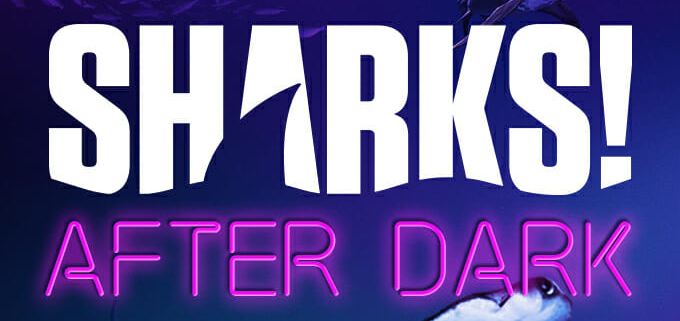 Sharks have arrived in Atlanta and it's time for a thrilling sneak peek of our newest gallery, SHARKS! Predators of the Deep. Join us for extended hours, exclusively for our 21+ guests. Enjoy a socially distanced evening, explore our main galleries, and be one of the first, ever, to see our newest gallery featuring some of the most feared, yet misunderstood animals on the planet!
SHARKS! Predators of the Deep is one of the world's largest exhibits designed to feature sharks. With 1.2 million gallons of water, and countless viewing opportunities, guests will come face-to-face with some of the most formidable apex predators in the world but walk away with a new understanding and respect of these amazing animals.
Sharks at Dark is exclusively for guests 21 years of age and older. The night will feature popular cocktails, café dining options, and a live DJ, but with limited capacity to allow for safe social distancing. Face coverings are required in our galleries but may be taken off to actively sip on cocktails or while eating food in our designated areas.
NOTE: Science ATL does not endorse in-person events at this time. All persons attending face-to-face events does so at their own risk. See CDC guidelines for COVID-19 prevention.