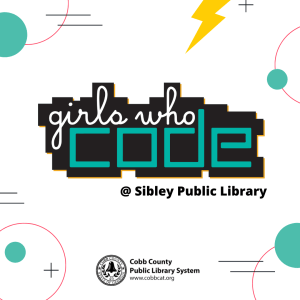 Girls Who Code is a non-profit organization dedicated to closing the gender gap in technology. The Girls Who Code club will have its first meeting January 18th, 2020 at 2 p.m. at Sibley library. The club will continue to meet on alternating Saturdays through May 30th, 2020.
All girls in 3rd- 5th grade are welcome and encouraged to attend! The club will cover topics of functionals, variables, conditionals, loops and more – as well as soft skills like teamwork and self-confidence. Computers will be provided as needed. No prior programming knowledge or experience is necessary, but a mind open to learning is key!
Registration is required and spots are limited. To register and for more information, please call the Sibley branch at 770-528-2520.