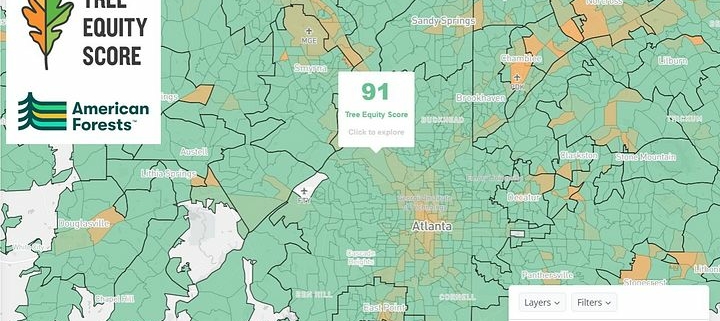 What is a "tree equity score" and how does it affect us? A nationwide database known as the Tree Equity Score was released by the American Forests in 2021 to fanfare among tree advocates, urban planners, and environmentalists. Yet, do we really understand what the data say? If we do, what can we do with the information? What should be our priorities and why? The panel includes experts from Houston, Seattle, Philadelphia, and Pittsburgh, as well as one of the creators of the Tree Equity Score. This multi-city virtual panel discussion will be moderated by Trees Atlanta's Co-Executive Director, Greg Levine.
The Tree Equity Score calculates a score for all 150,000 neighborhoods and 486 municipalities in urbanized areas across the continental United States. It considers canopy, stormwater issues, particulate matter pollution caused by traffic, agriculture, among other factors, as well as socio-economic patterns. Learn from other cities how they are affected by these issues and how trees can help.
This will be a thought-provoking and educational program that will begin with Chris Davis, Vice President of GIS & Data Science at American Forests, who will review the findings of the Tree Equity Score. The panel will discuss each city's strategy for growing their urban tree canopy, how the Tree Equity Score and other city data is used to plant more trees where needed, and the successes and challenges they are experiencing.
The tree equity score also can be used to review stormwater issues and particulate matter pollution caused by traffic, agriculture, among other factors. We will explore how cities and organizations can leverage the tool to work toward better environmental justice practices and outcomes.