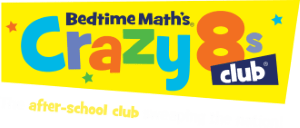 Crazy 8s is a recreational after-school math club that helps kids enjoy the math behind their favorite activities! It is designed to get children in grades K-2 fired up about math! Every week participants will have hands-on activities, run and jump, make music, make a mess, and meet new friends.
Crazy 8s will meet once a week at the Mountain View Regional Library Library for four weeks. Space is limited, and children must commit to attending every session.
For more information call the Mountain View Regional Library at 770-509-4964 or visit the Children's Reference Desk.
This program is intended for grades K-2nd grade and a participating adult.